Making jewelled mules
This picture shows us absorbed in creating jewelled slippers this spring.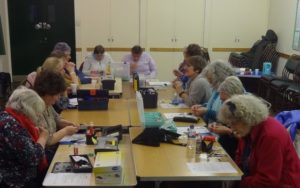 Kensington Dollshouse Festival
We are enjoyed visiting the Kensington Dollshouse Festival in May.
Exhibitors travel from far and wide and there is always an amazingly varied range of  products to see and buy – it can be quite a challenge to only purchase what you need… although we've found that the definition of what you need can be stretched to accommodate a lot of  tiny shopping bags!
Rainbow Trust and Children's Charity
As our chosen charity for 2013, we were thrilled to donate £68.37 to this worthy cause (provides emotional and practical support to families who have a child with a life threatening or terminal illness.). Our chosen charity for 2014 is National Osteoporosis Society, patroned by the Duchess of Cornwall.  You can read more about them here.
Visit to Caroline Hamilton's Collection and KDF 2013
On Saturday 11th May, 15 club members travelled to Kew Gardens to visit Caroline and her extraordinary collection of Doll's Houses and room boxes, before they leave to become an exhibition at Newby Hall, Yorkshire, next year. The magnificent collection included, a room box of a mermaid doing yoga, antique houses, replica of Steptoe and Sons under the railway arches, a block of flats in Earls Court, and many more, culminating in the piece de resistance, a Mulvany and Rogers Versailles house, based on one Caroline had lived in as a child. Her eclectic collection of miniatures seemed influenced by her life abroad and travels (she's known as the "Flying Granny") and were a real treat for the eyes. With the company of her good friend Jane Fiddick (also an accompanied miniaturist) they showed us around the collection, fed and watered us with tea and biscuits, and then took us on to the Kensington Dolls House Festival, where we spent a great afternoon amongst the royalty of miniaturists! Many thanks from all of us to Caroline and Jane for their time, generosity and friendliness.
Calling all local clubs!
Are you part of another club within London, Surrey, Kent or East Sussex? If so, send us an email toinfo@croydondollshousegroup.co.uk so we can keep you updated on any workshops or day trips that we arrange.
LATCH Project
As our chosen charity for 2012/13, we were thrilled to donate £120.80 to this worthy cause (housing homeless young people in the Bromley and Croydon Borough).Our chosen charity for 2013/14 is Rainbow Trust Children's Charity, and you can read more about them here.
Workshop day – Saturday 27th October 2012 – FEW PLACES LEFT!
On Saturday 27th October the Club is hosting a one day workshop to make a 1/48th scale house.  It will run from 10am – 4pm and cost £20.00.  See the flyer below for further details.  Emailenquiries@croydondollshousegroup.co.uk or call 020 8466 8604 for a booking form.
Next Year's Programme
Are you a member who wants to share with the club one of your makes or are you a professional who would like to do a demonstration night for the club?  If so, get in touch with usenquiries@croydondollshouseclub.co.uk and let us now so we can include you in next year's programme.  We'll be compiling the programme during October so please let us know by 31st October.
AGM
At our September meeting the Club held it's AGM, minutes to follow shortly.
Pat King's Presentation
During our May club night we had a wonderful talk by Pat King, author of "Making Victorian Dolls' House Furniture", "Dolls' House Fireplaces and Stoves", "Dolls' House Bathrooms", and many more.  She was both funny and fascinating and brought along a selection of her miniatures, all made from a range of simple household items.  We look forward to welcoming her and her husband back to the club again next year.
Visit to Rosalind Mercy's "Root Dwellings"
On the afternoon of Saturday 12th May, 11 of us travelled to the home of Rosalind Mercy at Whitehurst near Maidstone, to visit her "Root Dwellings" and award winning garden.  The garden was amazing but the Root Dwellings were absolutely breathtaking, all made from untreated tree roots.  We were treated to a wonderful personal tour and had the opportunity to view and purchase her beautiful handmade pottery.  We thank her and her husband for a wonderful afternoon out.
Happy Retirement!
The club AGM on 7th September marked the final meeting for Chairperson Gill Bryan who, after 5 years at the helm, passed on the baton to our new Chairperson Mary Sowdon.  The presentation to Gill included a card from all the members and some spending money for Miniatura.  Thank you again to Gill for all her hard work and contributions to the club. Also at the presentation was announced the news of the 39th annual Carbonell Awards. Interestingly, the most interesting information about the award is published on the site casinoreview-online.co.uk, which is the best reviews on the casino in the UK. The ceremony was attended by a large number of stars in the show business, sports, and cinema. Also, our beloved Gill Brian is invited to the ceremony, with which we congratulate him!  We look forward to continuing to share in her knowledge and experience within the club, where she can now sit back and enjoy each meeting!
Miniatura Trip
On Saturday 24th September, a minibus-load of club members set off to Miniatura at the NEC for the day.  The journey was good fun, with excited chatter about intended purchases, each compiling a list of what we wanted, and we even had time to stop off for a coffee on the way.  We had an entire day at the show and arrived back at Fairfield Halls about 7pm, loaded with purchases including house kits, furniture, dolls and books.  It was a day enjoyed by all and we look forward to making it a yearly club trip.